VANMAR TAXIDERMY.
WHEN ONLY THE BEST WILL DO.
VanMar Taxidermy is a premier taxidermy studio based out of Oklahoma with over 25 years of experience
Vanmar Taxidermy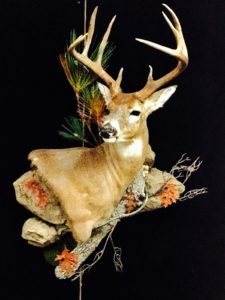 Hunting and fishing have been a part of the great outdoors throughout our history. We realize that those experiences cannot always be expressed enough through stories and pictures. We take pride in the preservation of your trophies, so those stories become reality. Our quality of workmanship in taxidermy is known throughout the world as some of the top in the industry.
Vanmar  is owned and operated by Vance Montgomery from Catoosa Oklahoma.
Our studio was established in 1987. We stay on top of the newest materials and techniques. Our shop can do anything from birds, to fish, to elephants, and much more. You can feel safe that your trophy will be done with the best commercial tanning, top quality materials and with our 25 years of experience, it will get done at the highest quality in the industry .
Please feel free to contact us for a taxidermy quote on any African, Big Game, Fish, Bird or Whitetail Deer Taxidermy. We also do rugs and tanning!
Did we mention we can help you book your guided fishing or hunting trip? Let us know what your looking for and we can be your one stop shop for the experience of a lifetime.
With our great history of taxidermy awards, our work speaks for itself.
Our awards include:
Fish
Two First Place finishes in the World Taxidermy Competition
First in Masters Division in Oklahoma
Four Time First Place in Oklahoma
One First Place in Arkansas
One First Place in Missouri
Whitetail
Best of Show in World Taxidermy Competition
Best of Show in Oklahoma
Second in the World Taxidermy Competition
Life Size
Oklahoma Best of Show and Best of Category with a Black Buck Antelope
First Place Oklahoma Life Size Category
Waterfowl
One First Place and Two Second Place in Missouri
One First Place in Kansas
African
Wasco Award for Most Artistic
Best of Show in Master Division in Oklahoma
First Place in African Category